AWS vs Azure vs Google: Cloud Wars 2019
Cloud technology computing is quickly and widely spread. Most businesses enjoy using cloud hosting and computing very much and they more likely to use this technology rather than implementing it in-house. As we have already mentioned, Infrastructure-as-a-Service (IaaS) is a model where a third-party company hosts and maintains core infrastructure; For example, hardware, software, storage on behalf of its customers. This can help businesses to save much more money for themselves. They are also able to compare different service providers to figure out which one suits them better. There is still an ironic battle among the top three cloud providers. The top three list consists of Amazon (AWS) as a leader with Microsoft (Azure) which breaths down its neck. Google cloud might be lagging, but it is trying to stay in the competition. Considering all their features and prices, choosing just one of them would always be a difficult task.
Who is who?
Now we are going to compare these three powerful cloud providers and see how they stack up against each other. But first, let's have a quick intro about the way that these companies established and turned into the world's biggest cloud platforms.
What is AWS?
Amazon Web Services (AWS) is a cloud service platform presented by Amazon; Which provides a different range of services including compute, storage, analytics, database, delivery, and other functionality. These types of infrastructure help the business to easily scale and grow. AWS presents these services which can host different types of applications and software and help their owners to create and deploy them in the cloud environment. These services are designed in such a way that they work with each other to increase the quality of the final product. AWS or Amazon web services established in the year 2006. With 13 years of experience, it has the biggest proportion of the cloud market. At this time, it is the most-purchased cloud platform among currently available cloud service providers. AWS platform offers diverse advantages such as managing overhead minimization, cost reduction, etc.
What is Azure?
Six or seven years after AWS, Microsoft step into the competition and launched Azure. Duo to its vaguer compared to AWS it has quickly built a reputation for itself in the market. Just like its main competitor, it offers a complete set of cloud services such as compute, storage, database, networking, developer tools, and other functionality. The same as AWS, all Azure services can be used by developers and software employees to build, deploy and maintain applications across the cloud environment. Because lots of Microsoft's customers were big companies, they tried to create services which include financial; human resources; scientific; retail; media and many other use cases.
What is the Google cloud platform?
In the year 2008, Google developed and introduced its cloud computing platform which name is Google Cloud. Many programming languages were used to develop and deploy this service including Java, C++, Python, and Ruby. It also provides the various services that are SaaS, PaaS and Serverless platform. Google cloud is quite a big family and consists of many different sub-categories. For instance, we can name  Google App Engine, Google Compute Engine, Google Cloud Datastore, Google Big Query, and Google Cloud SQL as sub-domains of Google cloud. The main reason for introducing GDP was to power their own services like Youtube and Google search engines. However, later on, they built an enterprise cloud service as well. So we can consider the Google cloud platform as an envolving cloud computing platform.
Let the battle begins who wins? Azure, AWS or GCP
So now we have an idea about the foundation of these giant companies; let's see what separates the big three American cloud providers. And in the case of deciding to use one of them, which IaaS platform is best suited to your organization?
Features and services
AWS, Azure, and Google have nearly the same high-level features. They all have computed, storage, and other services. They all preset the common components of a public-cloud to their customers. Services consist of self-service and instant supplement, scaling, security, compliance and authentication management tools. To be honest, the third partition has the greatest potential for differentiation. That is why choosing one cloud provider as a winner will come down to the wants and needs of each business and the amount of workload they have. This is where you can exactly relate each part of your system to one provider which is also known as a multi-cloud approach. In terms of computing service, Each company has its own powerful engine. On one hand, Amazon AWS has built Amazon EC2 which provides a safe and flexible compute capacity in the cloud environment. This easy interface allows you to get and set capacity with the lowest problem. On the other hand, Microsoft Azure compute provides the virtual machines and a full-fledged identity solution where you can provision either Linux or Windows hyper machines. They can also gain port protection and ADDS support.
Related post: What Is Multi-Cloud?
All these three vendors have also imported machine learning technology to their services to give their costumers this opportunity to enjoy numerous benefits of that. For example, AWS is providing  AWS Rekognition for image recognition and Polly for converting the text-to-speech model.
Meanwhile, Google is also one of the powerful players in the machine learning area. This gigantic company provides AI and ML products such as Cloud Machine Learning Engine where developers can build and deploy superior machine learning algorithms easily.
Compute and storage
The most fundamental role of a computer is to compute. Vendors have to provide services related to computing workloads. The storage is one of the key functions of cloud services too;
Amazon EC2 provides core computing services to design and set up Virtual Machines with the use of custom or pre-configured AMIs. Diversly, Azure provides a pre-configured VHD (Virtual Hard Disk), which performs the same as AMI. Google delivers users virtual machines to its data center. Using this method enables VMs to boot quickly and have a consistent performance. It can also change in a way that customers like and comfortable to use.
All three competitors offer a variety of storage services. AWS presents  Simple Storage (S3), Elastic Block Storage (EBS), Elastic File System (EFS). These services are able to integrate with the company's on-premise software and servers. In the meantime, Microsoft sells the core Azure Storage service, Azure Blob block storage.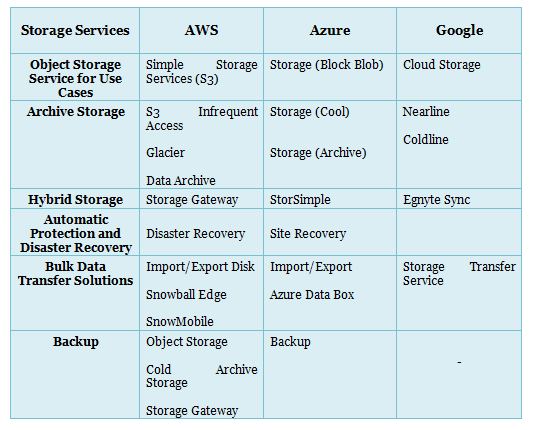 Pricing
Amazon costumers can use the "pay as you go" method to pay the services that they use. This term means users do not have to buy a package of licenses. Instead, they will buy and individual service and pay for that without any long term licensing. If you are interested in the minute basis payment method, Microsoft Azure and Google can offer this approach less expensively.